THE GRATITUDE DIARIES
In this inspiring memoir backed by pioneering research, Janice Kaplan spends a year living gratefully and gains a fresh outlook that transforms her marriage, family life, work, health, and every day experience.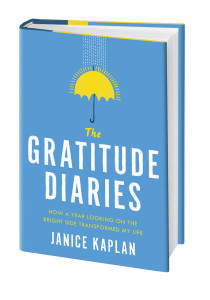 Kaplan's study is insightful and loaded with compelling research and solid techniques for positive thinking, and her own example provides the most convincing testament to her ideas."
–Publishers Weekly
"Her conversational tone is encouraging, like talking to a good friend who's having a great day and wants to share it with you… Simple, effective procedures that can be easily incorporated into even the busiest lifestyle."
–Kirkus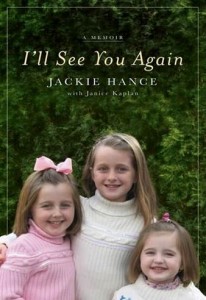 An extraordinary true story of hope and survival. Jackie Hance is a typical suburban mom who experiences an unimaginable tragedy when she loses her three little daughters in a horrific car crash. She slowly learns that when the worst happens, you can do nothing but take small steps and hope to find light in the darkness.
"A wonderful and courageous book"--NY Times #1 bestselling author Jeanette Walls
"Unflinching pain and unwavering burn into this story line by line. You'll read this book, penned with grace by novelist Janice Kaplan, in one breath, and, left breathless, you will never forget."–NYTimes #1 bestselling author Jacquelyn Mitchard
This second Lacy Fields mystery once again stars the talented mom and decorator-to-the-stars. When Lacy's beautiful young client Cassie Crawford dies in her newly decorated L.A. penthouse, Lacy is stunned to find suspicion land on her own best friend Molly Archer. Determined to uncover the truth, Lcy puts her own life at risk as she confronts a crazed reality show producer, a dangerously clever professor, and a hunky bad-boy motorcyclist. But is husband Dan right when he warns that their family is about to become the killer's next target?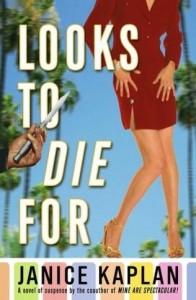 Lacy Fields, a happy mom and Beverly Hills decorator-to-the-stars, is stunned the night the police barge into her home and haul her husband off in handcuffs. Outraged that her handsome
Dan is accused of murdering a young actress, Lacy discovers her talent for hunting heirlooms can also help chase a clever killer. Lacy is sure her husband has been wrongly accused, but how can she explain his mysterious behavior? Along with her best friend, casting agent Molly Archer, she begins shadowing suspects. After she stumbles onto a George Clooney movie set clad only in La Perla lace underwear, Lacy learns she could be the killer's next victim.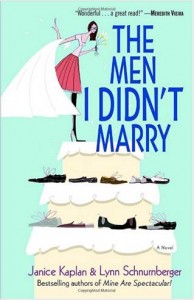 Gucci yoga mats. Seaweed facials. Cellulite gurus and rich men with private jets–welcome to the world of Hallie Lawrence Pierpont, who proves that love the second time around is far from dull. Hallie's husband doesn't even wait until they get home from dropping their youngest daughter at Yale to announce that he's leaving her–for a fitness trainer with very perky breasts. After first succumbing to a self-pitying, cookie-induced coma, Hallie becomes determined to get her life back. Her plan begins with a question: Whatever happened to all those men she didn't marry? Hallie is whisked away on a heartfelt and hilarious journey into her past life that leads on to her future.
"A fun read that is perfect for those days when the most you want to do is lie around in your pajamas, watch QVC, and eat Oreos."
–Booklist
"A laugh out-loud novel with earthy charm and universal appeal."
–Romantic Times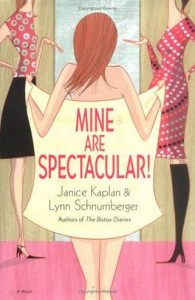 "A funny, buoyant novel…[the authors'] have crafted a novel that's so delicious readers might feel compelled to diet after devouring it. Their combination of whip-smart dialogue, spot-on metaphors and the occasional steamy bedroom scene creates a hilarious hit that gives chick lit just the kick to keep it from going stale. As Sara's girlfriend Berni might remark, Mine Are Spectacular! is better than a box of bonbons."
—People Magazine
Four star lead review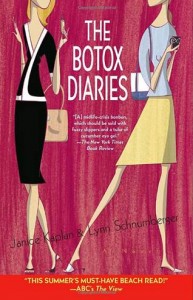 Jess and Lucy's friendship has weathered the trials of marriage, the births of children, and the transition from itty-bitty bikinis to "Kindest Cut" one-piece suits. Now the women are discovering that midlife crises aren't just for men — they're equal-opportunity dilemmas.
"[A] midlife-crisis bonbon which should be sold with fuzzy slippers and a tube of cucumber eye gel."
—The New York Times Book Review
Other Book
A Morning Affair (novel)
Wild Nights (novel)
Whole Truth (mystery)
If You Believe In Me (young adult novel)
First Ride (young adult novel)
Women & Sports (non-fiction; named to Best Books of the Year from New York Public Library)